Img 1 - Hephaestus temple
If you think about Athens, the first image to come to your mind will be the Acropolis and all the ancient greek cultural heritage. But when you hit Athens, you will be surprized by the density (and quality ) of graffiti. Graffiti are litterally covering the entire city, you will find some everywhere, in every corner and sometimes even on trees or rocks... Only the Acropolis and the other temples seem out of reach of street-artists. These precious touristic gems are highly secured and locked at night. It might sound provocative, but I think it is a pity. Look for instance how great and colourful would look the Hephaestus temple if the gates were open a few nights to let the graffiti artist in.
To complete this picture I have captured hundreds of graffiti in the streets of Athens that I cut out and pasted on a picture of the Hephaistos temple (the most preserved temple in Athens).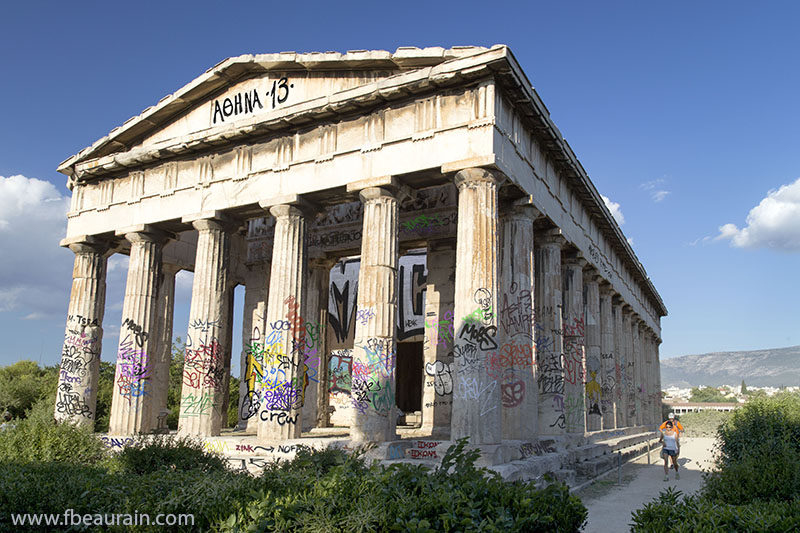 Ilmg 2 - Aeropagus
Aeropagus is a rock right in front of the Acropolis. It is one of the hot spot in Athens to take pictures. Tourists gather here in the evening to capture the warm colours of the sunset on the Acropolis. Like a lion waiting for its prey near a pound, I like to go to Aeropagus to take pictures of tourists taking pictures.
Here is an interesting case of what could be called the "serial photographer". The man with the pink shirt could not stop shooting. He was looking so unsatisfied and was frenetically moving around, always changing position and direction. I could not tell you how many pictures he took (he was most of the time out of my camera range) but I could capture him in almost 20 different positions that I stacked in this picture.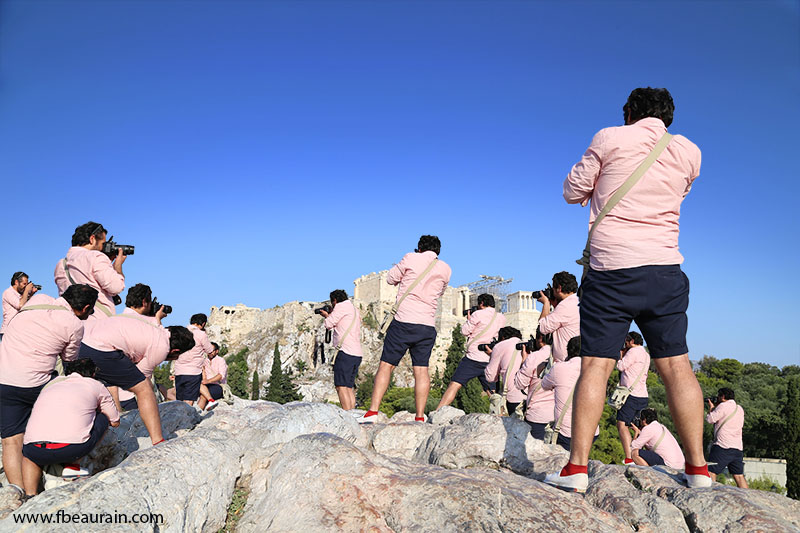 Img 3- Aeropagus again
But at night this time...
Img 4- Hadrian Library
The guided tour continues with the visit of the Hadrian library which appears to me as the chimneys of a power plant...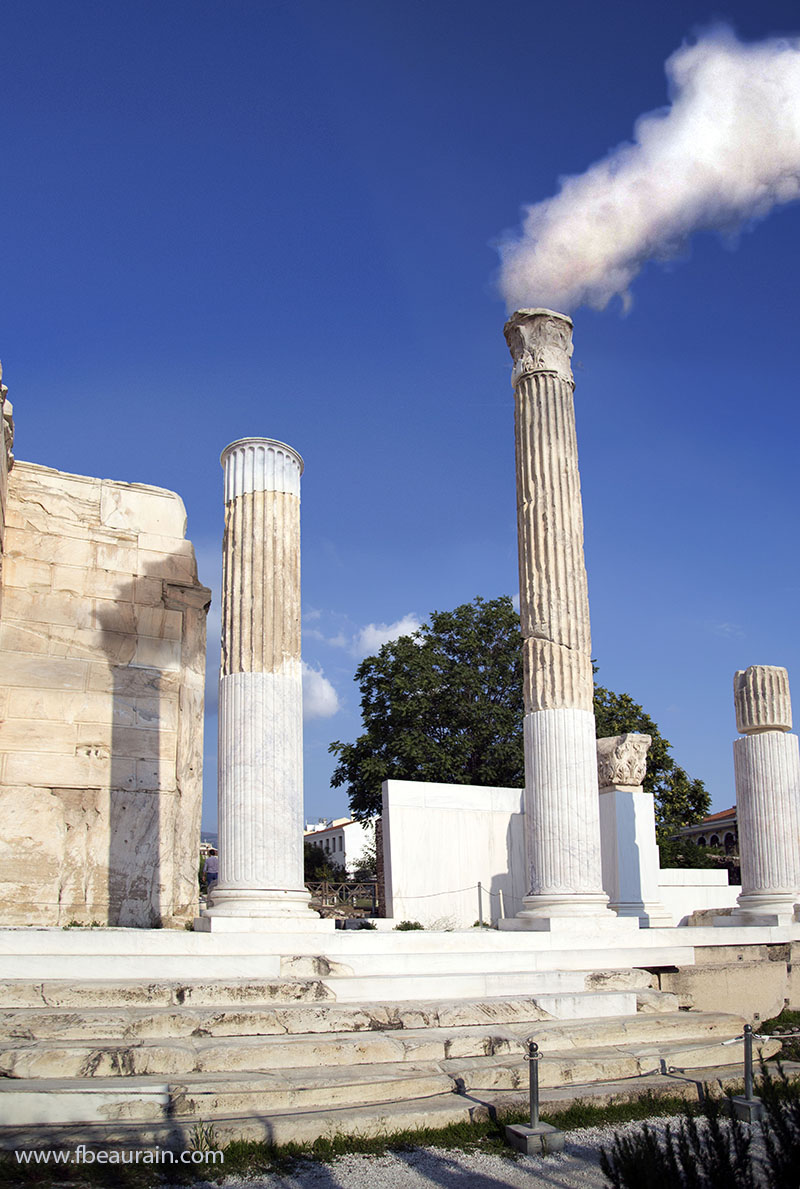 Img 5- Komboloi
Komboloi is a weird element of the greek culture. Most of users (all?) are male (and sitting at the terrasse of a café). It helps to relax and meditate.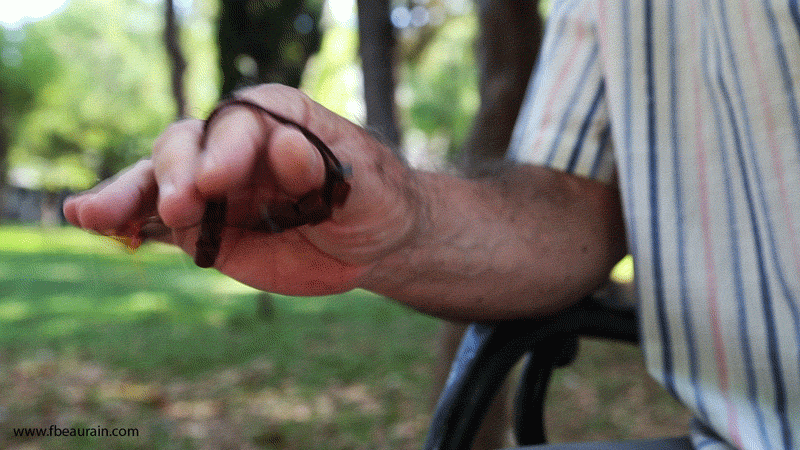 Img 6- Psyri
Psyri is a trendy and gentrifying neighborhood located in the center of Athens. It is also an area with impressive density of graffiti. This gif has been shot in front of the fire station, home of some homeless people.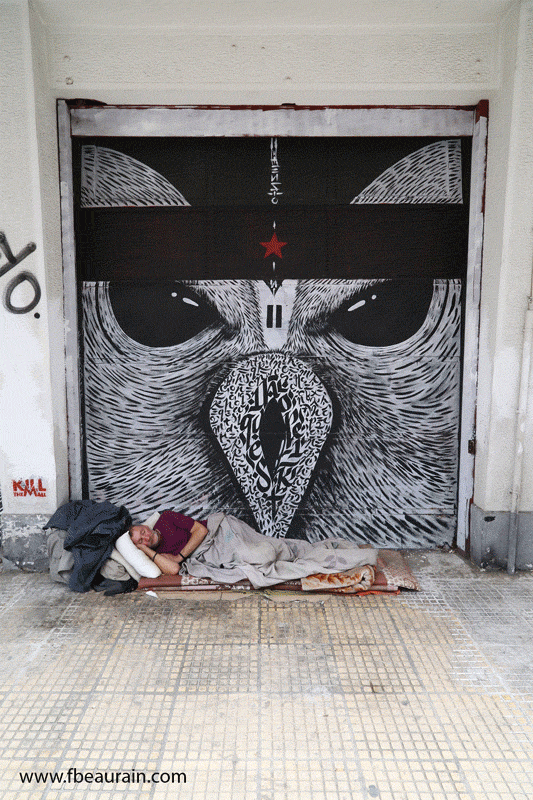 Img 7- silver 925
Teo is the owner of silver 925 shop (http://www.graffitishop.gr/). Silver 925 is located in the heart of Psyri and is easy to find, the closer you get, the more graffiti there are. Teo is a key personn to meet in Athens if you have some interest in street art. The shop is located in a cellar and looks like an armory but here spray cans replace the bullets.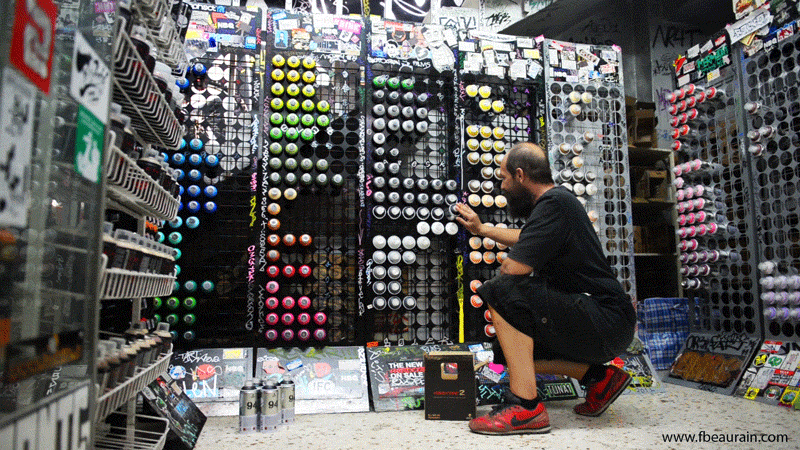 Img 8- All that glitters is gold
You can buy many useful and nice items at the kiosks in Athens.
Img 9- Escher never came to Greece
Escher never came to Greece but I think he would have enjoyed the architecture in the cyclades. This picture has been taken in Sifnos and then slightly photoshopped.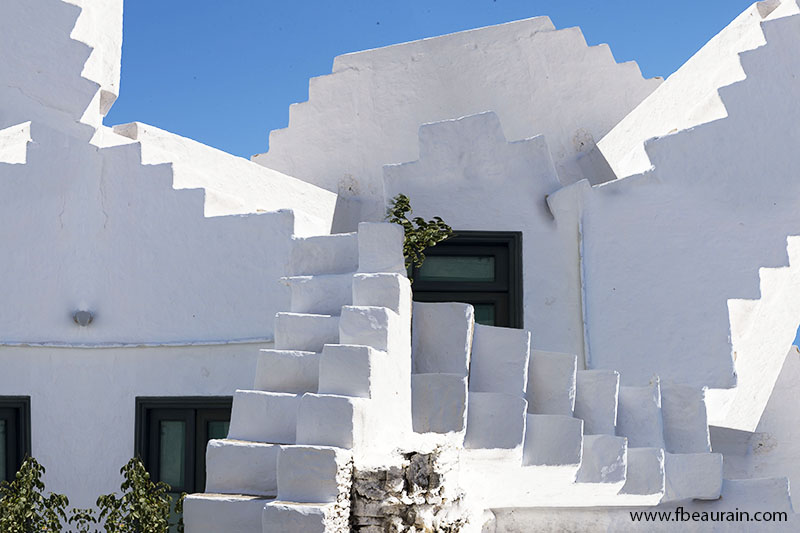 Img 10- KSR
The cool thing for street-art ist in Athens is that cops are not really interested in you. You have to watch out of course but there is not much stress. No need to work late in the night, while you're doing your graffiti your friends just wait a few meters from there chillling out. KSR (from the IKONS crew) is a young street artist from Athens, he studies fine arts, Thanks for the dedicacation.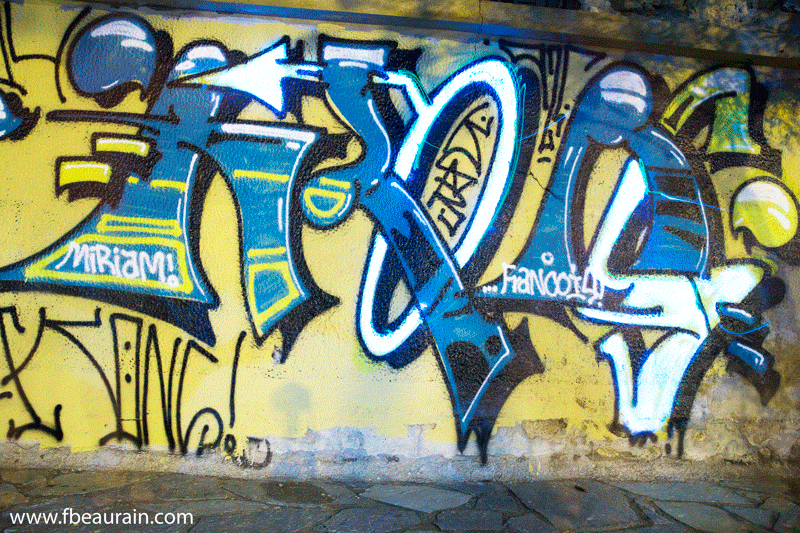 Img 11- Tetris
Back at Silver 925 shop for a Tetris game.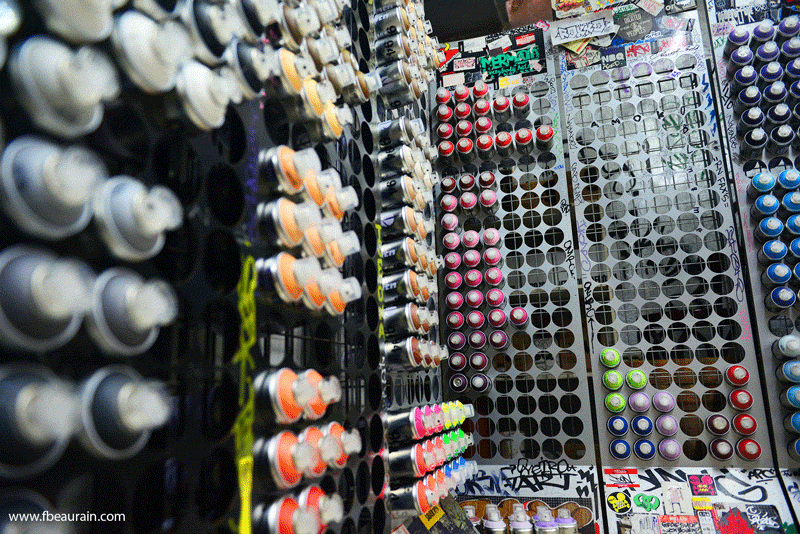 Img 12- open air cinema
There are a lot of open air cinemas in Athens. This one looks more like a pub with terrasse than a cinema. There is a bar and tables with ashtrays. I don't know if there are still many places in the world where you can watch a movie, drink a beer and smoke a cigarette at the same time. Most of the time there is a minimum of planning in my gifs, sometimes the gif comes on its own. This what happended that day when this man started to clean the floor of this cinema after the rain.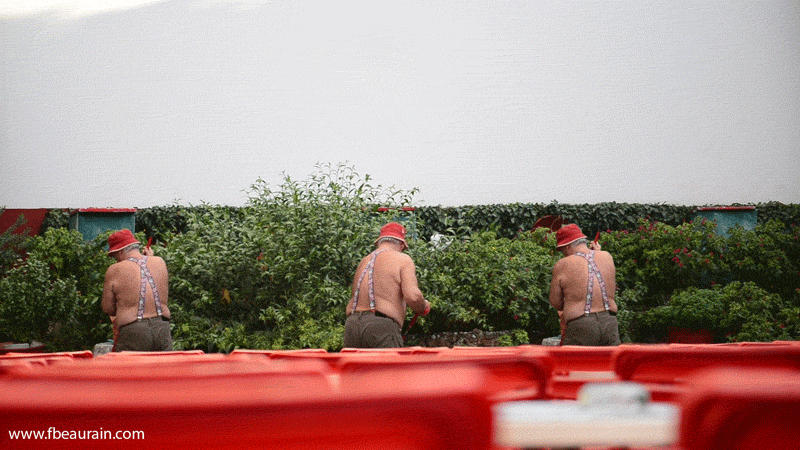 Img 13- skateboard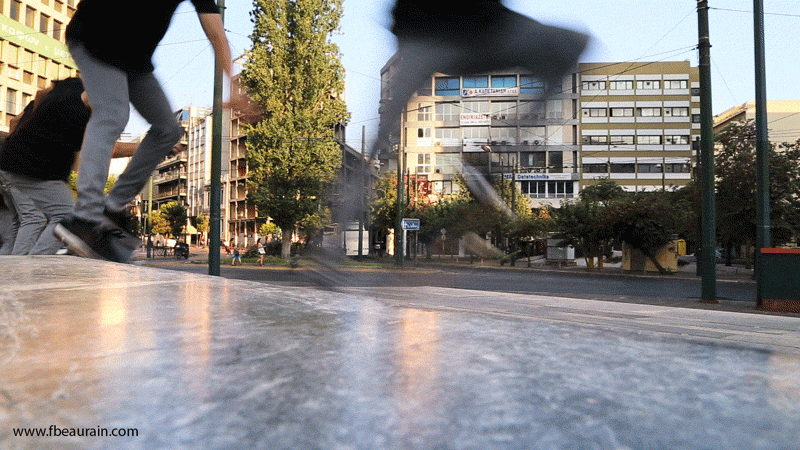 Img 14- mixing the colours
I finally learned how to mix the colours.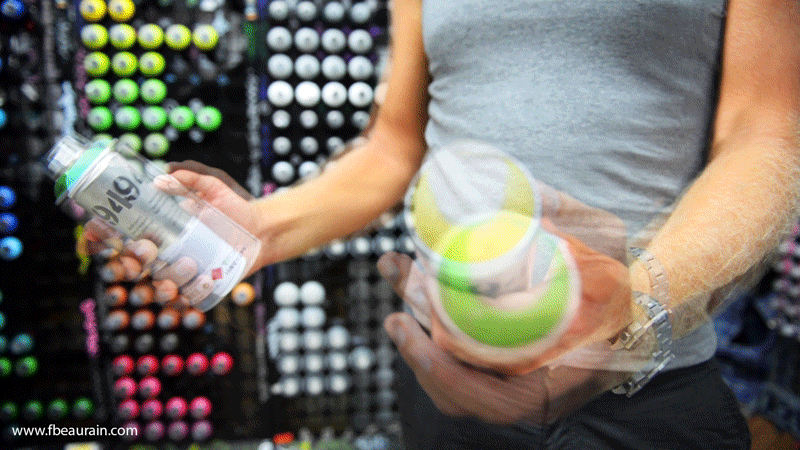 Img 15- learning to fly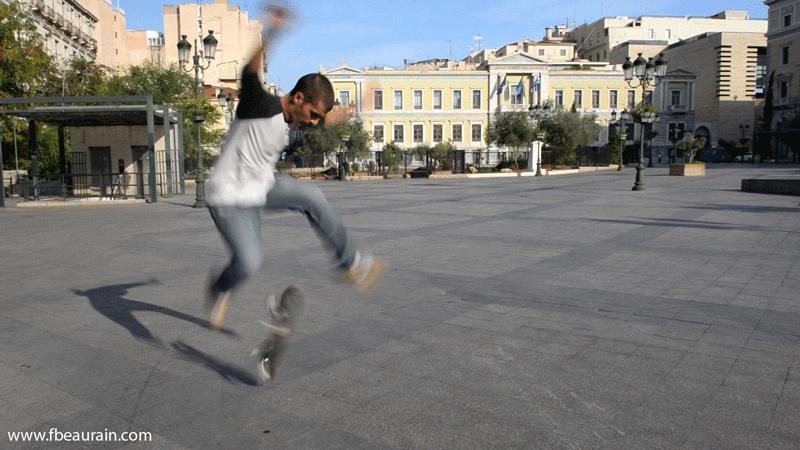 Img16- kickflip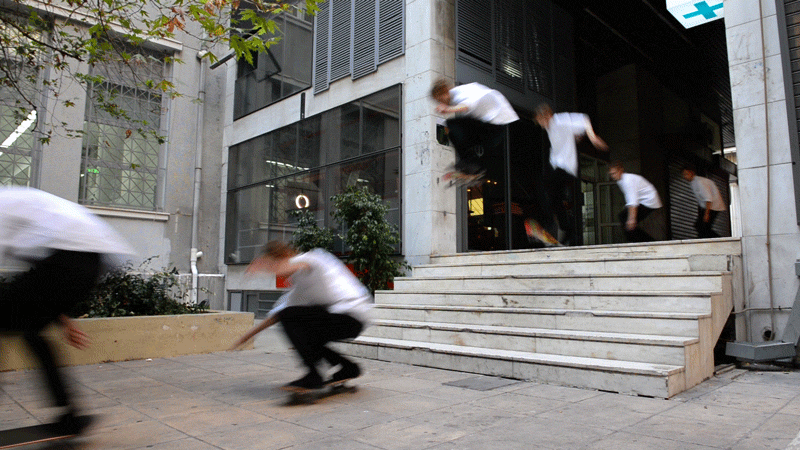 img17- clean-up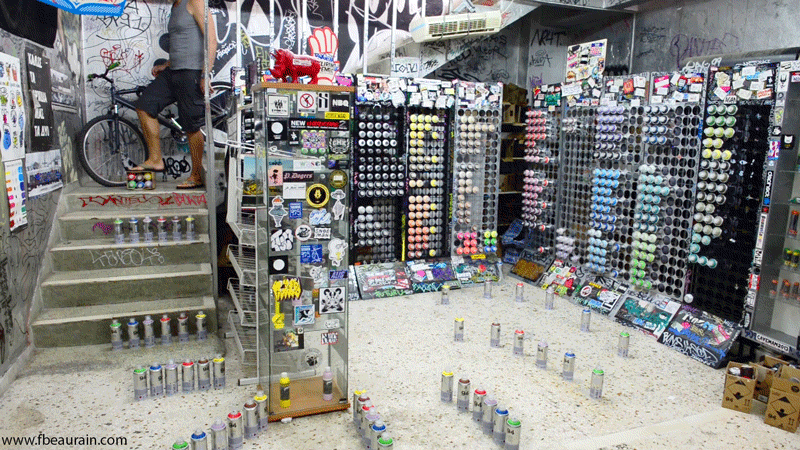 Img18- 360°